Straw bale cover sizes*
Bale type / Straw bale cover size
9.8 m x 12.5 m
9.8 m x 25 m
12 m x 25 m
15.6 m x 25 m
Round bale
(1.2 m x 1.2 m)
100 pce.
(4-3-2-1)
200 pce.
(4-3-2-1)
300 pce.
(5-4-3-2-1)
420 pce.
(6-5-4-3-2-1)
Round bale
(1.2 m x 1.5 m)
60 pce.
(3-2-1)
120 pce.
(3-2-1)
200 pce.
(4-3-2-1)
300 pce.
(5-4-3-2-1)
Square bale
(0.9 m x 1.2 m x 2.4 m)
50 pce.
100 pce.
150 pce.
280 pce.
* Approximate, example sizes and quantities
Is the cover not long enough?
You can overlap several covers.
Use at least 20-30 cm overlap and make sure that the seam is perpendicular or parallel to the stack's spine (see red dashed line in the picture).
Esure that the stack and the fabric is orientated in the principal wind direction.
Read the installation guidelines, where you'll find several suggestions on properly installing the straw bale cover.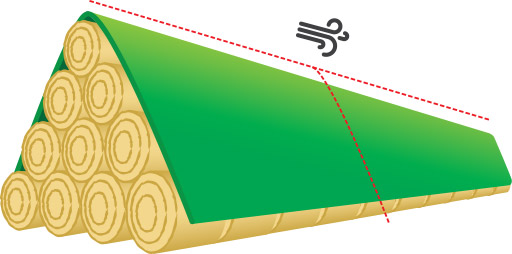 Creating overlaps
If you use several straw bale covers on one stack, then always keep in mind the principal wind direction when overlapping.
Create the overlaps, so the wind can blow over them.